How Offline Video Interviews Will Help Companies To Find Right Candidates?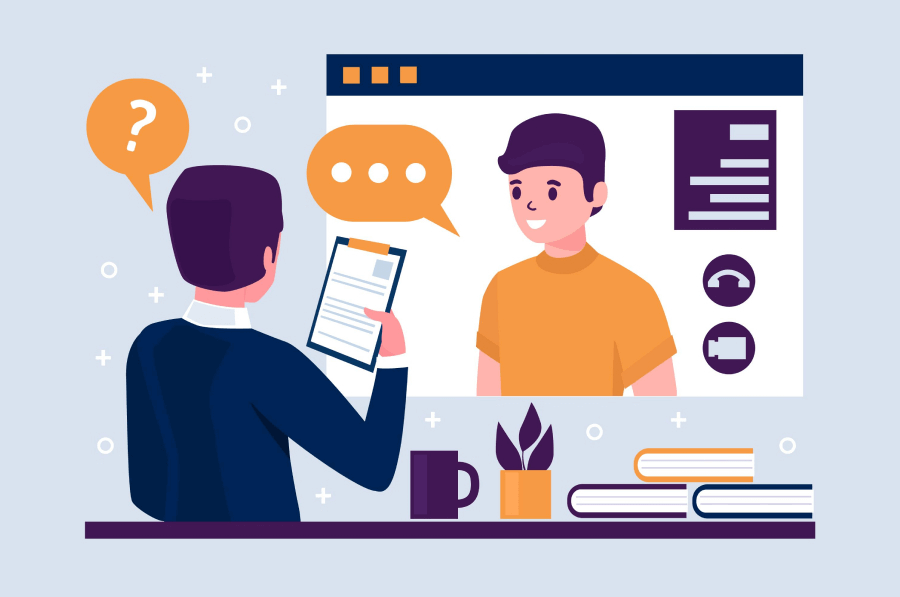 Offline video interviews help recruiters schedule interviews easily with employed candidates. It becomes easier for employed candidates as well.
In the age of remote working, companies have been constantly looking for ways to bring teams together. With organizations permanently planning to transition to remote or hybrid work cultures, the need to improve the candidate experience is also increasing. The process of improving a candidate's experience starts way before they join the organization. Offering support throughout the hiring process, making virtual interviews more interactive, finding creative ways to show the company culture and ensure smooth onboarding online are some of the common practices organizations have been following.
According to a report by Gartner, 86% of organizations are incorporating different video conferencing tools and other virtual technology to effectively interview their candidates during the pandemic. With virtual interviews here to stay, best practices are required. Even though in person experience is quite tough to beat, virtual interviews make more sense considering the current situation.
Typically a recruiter assesses 6-10 candidates out of approx 250 resumes for final selection. Assessing them in a short period can be more hectic and time consuming than it seems. And that is when offline video interviews can be a huge help to companies. Incorporating offline interviews can benefit businesses in many ways:
01- Streamline and Speed up the hiring process
With offline video interviews, recruiters get time to focus on other tasks while the applicants are recording their answers. Instead of spending the whole day interviewing candidates, recruiters can look at these recordings according to their pace and schedules.
02- Solve scheduling problems
Offline video interviews help recruiters schedule interviews easily with employed candidates. It becomes easier for employed candidates as well since they can record answers after their working hours.
03- Easy to compare interviews
Confused between two candidates? Re-watch the interviews to analyze more details and make the final decision. Recruiters can also send the interview recordings to other important team members and take their opinion before making the final call.
04- Test Qualities and skills acutely
Recruiters can learn a lot more about candidates by analysing their verbal non-verbal clues. They can also check if their overall personality is fit for the job. For example- A sales professional with not as good communication skills as they have described on their resumes will be easier to identify and remove.
4 Important Steps to Conduct an Effective Offline Video Interview
Conducting offline video interviews effectively is an essential step to ensure you find the right candidate. Here are four important steps managers can follow:
01- Craft Questions Beforehand
Questions are the most important part of the interview. To accurately evaluate the candidate, it is important to craft role specific questions. These questions should focus on the candidate's suitability. It should also have questions that are related to the candidate's resume.
Some interactive and simple questions you can add:
Tell me something about yourself.


You can ask this question to understand the nature and priorities of the candidate. It also gives a quick insight into an employee's personality and cultural values. Plus it's a great ice-breaker.

What are your strengths and weaknesses?


Even though this sounds like an old school question, this can help you understand a candidate's self confidence and how well they address themselves. Also if they end up saying 'hardworking' as a strength, you know what to do.

Give an example of how you handle conflicts.


Difference in opinions and conflicts are inevitable in a workplace. By asking this question, you can try to understand how well a candidate can solve any disputes. You can also ask candidates to explain this by demonstrating any real life experience. This will add the interactive quotient in the interview.

Where do you see yourself in five years?


Another cliche, yet an important question to understand a candidate's determination and long term goals. You will also be able to understand if their plans and future ambitions align with what your organization has to offer.

What makes you a perfect fit for this position?


This can be a perfect question to conclude the interview as the candidate will summarize their qualities and any professional experience by the candidate that made them apply for this position. Based on this answer, you can make the final decision if the candidate is fit for the role.
02- Select the Platform
Selecting the right interviewing platform is an important step for a seamless interview process. Study the platforms and what different features each of them has to offer. Also check if you can easily assess the recording. Do not assume the candidate to be acquainted with the process of recording an offline video interview. Hence try to pick a platform which candidates can use easily and make sure to help them navigate through the process.
03- Upload the Questions
The next step is to upload the crafted questions along with any other important details. Some platforms also allow employers to upload questions in a video format to make the interview more interactive. However that can be a little time taking. You can consider however you want to upload the questions, if your chosen platform allows you to. A good practice is to add a bit of introduction and details about your role before moving on.
04- Set up the Schedule and send candidates the invite
Send the invite to the candidates using the platform. You can also communicate with them over email about the invitation and other important details they need to keep in mind, such as the duration of each answer. A good practice is to invite them 1-2 days prior to provide them enough time to prepare and upload the answers.
Why Should Companies Use FlexC's Offline Video Interviewing Tool?
Offline video interviewing is one of the in-built features of FlexC's AI-enabled talent marketplace. After pre-screening, employers can opt to conduct an offline video interview with the candidate.
FlexC's offline video interviewing tool stands out because of these six reasons:
01- FlexC provides an end-to-end hiring solution, from pre-screening to onboarding and performance monitoring. An additional offline video interviewing feature will eliminate inconsistency in the hiring process due to constant transition from one platform to another. Companies will end up saving a lot of time and effort.
02- The platform is suitable for not so tech savvy candidates and is extremely user- friendly. Candidates are provided with adequate instructions, and support through automated notifications and emails.
03- The platform also ensures the quality of every interview recorded by reminding candidates to check their audio, video and network quality before they start.
04- Interviewers can set their own question templates and customize them for each interview.
05- FlexC allows multiple interviewers to collaborate and effectively contribute to the hiring process irrespective of their geographical locations.
06- FlexC's support team ensures an enriching candidate experience by assisting them throughout the process, which in turn can greatly improve the employer branding.
Are offline video interviews effective for your company?
The answer to this question depends upon your hiring requirements. Some companies believe that offline video interviews are an excellent method to save time and streamline their process. Others believe it lacks the element of personal touch, and prefer other ways of conducting interviews online.
Organizations while filling up sales or operational roles can use offline video interviews to effectively assess the candidates. Even while hiring freshers or during bulk hiring, offline video interviews can be effective.
While looking for a platform, make sure to choose a tool that aligns perfectly with your recruiting needs. A seamless interviewing tool will help you focus only on the main objective which is, hiring the right candidate.